Homesteaded in 1906 and accepting hunting and fishing guests by around 1913, it was a family resort by the nineteen-twenties. By the late nineteen-forties it became known as Cave Creek Ranch, and began attracting biologists and ornithologists as the extraordinary biological diversity of this mountain range became known. It has continued to attract a mix of birders, scientists, nature lovers, and hikers ever since. The current owner, Reed Peters, acquired the ranch in 1998 and has since renovated the buildings to be in harmony with the surrounding natural beauty, creating a peaceful retreat without modern distractions such as TV, radios, and telephones.
Although the facilities are intended for overnight guests, day visitors are welcome between the hours of 10:00am and 4:00pm. There is a $5.00 per person fee, and groups of more than 6 are requested to call in advance.
About the owner:
Reed Peters, Owner and Manager Of Cave Creek Ranch, Portal AZ. Reed Peters grew up in Pittsburgh, in a family fascinated by nature and committed to conservation. He majored in history at Kenyon College in Ohio, received an MBA from Duquesne University and worked for IBM for 23 years in Chicago. He moved to Portal in 2004, but continued to work for companies in Philadelphia and Phoenix. At the end of 2008 he became a full time resident of Portal.
Reed's family has been instrumental in making Cave Creek Ranch the beautiful place it has become. Reed's parents Pat and Dick Parran have been especially significant contributors. Pat designed the Common Room and is responsible for much of the traditional feel and comfort of the rooms.
About our grounds: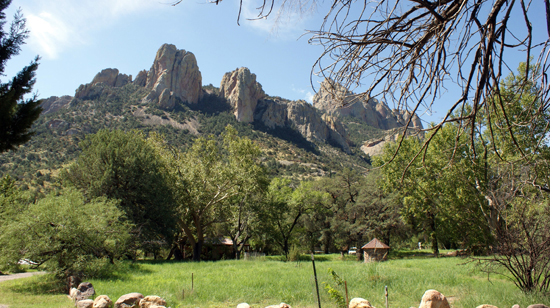 Cave Creek Ranch occupies 12 secluded acres at the mouth of Cave Creek Canyon, with spectacular views of the rhyolite cliffs of the canyon. Our hummingbird feeders, seed feeders, and new Chiricahua Leopard Frog pond attract many Arizona specialty birds. Nearby habitats range from pine-oak woodlands and sycamore riparian areas, to grassy meadows and Chihuahuan desertscrub. Canada-like evergreen forests are less than 10 miles away. Benches are scattered about the grounds. Hiking trails lead to the top of the canyon.
Resident and seasonal birds include Painted Redstart, Bridled Titmouse, and Sulphur-Bellied Flycatcher, as well as numerous Elf and other owls and up to 12 hummingbird species in the summer, 2 in the winter. Elegant Trogons nest nearby; in spring and summer, they have been seen foraging in our trees. In winter, exciting hawk and sparrow watching can be found in the valleys around the Chiricahuas.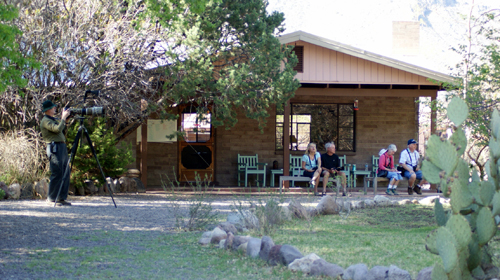 The front porch of the Cave Creek Ranch office is a popular spot from which to observe the feeders.
In his book, Location Checklist to the Birds of the Chiricahua Mountains, Richard Cachor Taylor writes "The yard list for Cave Creek Ranch rivals any in the United States. It is deservedly famous for its hummingbirds and has hosted nearly every hummingbird species found in Arizona."