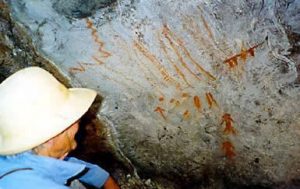 Pinery Canyon Road traverses the Chiricahuas, beginning at Chiricahua National Monument and ending at Portal. It is 22 miles long, but narrow, dirt, and winding, so plan at least an hour and a half drive and loads of scenery (it may be closed in winter due to snow). There is also a scenic dirt road drive from Portal to Paradise, looping back through Cave Creek Canyon. And on the southern end of the range, roads traverse the foothills there into Rucker Canyon with more trails and picnic areas.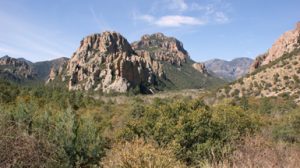 There are over 230 miles of hiking trails in the Chiricahuas, ranging from the easy walks around Cave Creek Ranch and the Coronado National Forest visitor center, to strenuous climbs in Green House Basin, and through-hikes on the Crest Trail. Many of the hikes offer spectacular views of the area.
During spring and summer, Coronado National Forest operates an excellent visitor center open Friday, Saturday, and Sunday, just 2/10ths of a mile up the canyon from Cave Creek Ranch. Free information and excellent natural history displays are available.
Numerous scenic drives surround the Chiricahuas.
Map of Coronado National Forest
Chiricahua National Monument Scenic Drive
Willcox-Dos Cabezas-Chiricahua National Monument

For suggestions, our staff at Cave Creek Ranch will be happy to advise you on all the possibilities.
For more information about exploring Southeastern Arizona visit Discover Southeast Arizona