Much news from Reed & Cave Creek Ranch!
Our book about the Canyon is terrific and has received five awards.
We've made great progress with the restoration of Willow Tank .
At Cave Creek Ranch we are building a classroom-meeting room that will be finished this summer.
We're finished with repairs to the creek crossing from the flood of September 2014.
The frogs in the frog pond are now increasing by leaps and bounds!
Our January Belize trip was so much fun we're going to do it again next winter, to a different part of the country. Please let us know if you want to be added to the list.
What Is Cave Creek Ranch?
Your headquarters for an incredible natural journey to one of the most beautiful and serene areas in the United States.
Cave Creek Ranch provides an exceptional experience in an unparalleled natural wonderland. To enhance your visit, there is no access to TV, radio or cell phone to distract you.
Dozens of bird species, as well as lizards, butterflies, javelinas, deer, ringtail cats, bobcats and more are here to be studied and enjoyed.
Rick Taylor, author of A Birder's Guide to Southeastern Arizona, describes the area as "the single most diversified land-bounded plant and animal community in the United States. Many birders consider the Chiricahuas the premier birding location in all North America."
From birds to butterflies, hiking to stargazing, studying reptiles or insects, or just soaking in the wonder, we at Cave Creek Ranch are here for you. It is spectacular, no matter what time of year you arrive.
Many people don't think of coming in the Summer, but you should consider it. The birding, biking and hiking are wonderful. Come see our crystal blue skies, breathe the clean air and listen to the quiet. The skies are incredible at night, with millions of stars.
Life is too short to miss a visit. Many reservations are coming in, so NOW is the time to act on your plans. I hope to see you soon. – Reed Peters, Owner
Some Recent Visitor's Comments
"Wow!" – Sharon from St. Paul, MN
"Superb Rooms" – Garrett from Chandler, AZ
"Wow! Great Birds, deer, etc." – Treg from Roswell
"Great place for a group of teens. They loved it! Thank you" – LeRoy from Animas, Rodeo
"Absolutely Amazing" – Julie from Pittsburgh, PA
At Cave Creek Ranch 11 birds you are guaranteed to see here right now are:
Black-chinned Hummingbird
Broad-billed Hummingbird
Blue-throated Hummingbird
Magnificent Hummingbird
Summer Tanager
Western Tanager
Inca Dove
Lazuli Bunting
Bridled Titmouse
Scott's Oriole
Hooded Oriole
Summer at Cave Creek Ranch
Belize North to South A Special Tour with Reed Peters for friends and clients of Cave Creek Ranch January 30 – February 8, 2017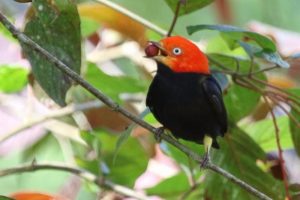 Looking for a great winter birding escape? The small country of Belize is the perfect destination, with a wide diversity of birds such as toucans, parrots, and trogons within easy reach from comfortable lodging and excellent tourist infrastructure. It is such a comfortable and easily accessible destination that we repeat a bit of our last year's tour at Lamanai, but then feature two NEW lodges in different parts of the country for this winter's special Cave Creek Ranch adventure.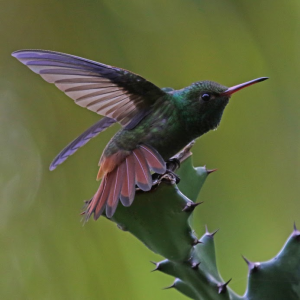 This trip is a great combo of birding, nature, culture and FUN Enjoy a cruise along ancient Mayan canals at sunset. While here, we will visit Mayan ruins and lush rainforests. Within these forests, there is a chance to see secretive species such as Tody Motmot and maybe even Jaguar! The gardens at Pook's Hill's attract iconic Neotropical species: toucans, aracaris, motmots, and tanagers. Travel along scenic Hummingbird Highway and visit Blue Hole National Park. From The Lodge at Big Falls, enjoy views of the Maya Mountains from the comfort of this lovely lodge. Using this site as a base, we may visit the Mayan ruins of Lubaantum and Nim Li Punit, the lush forest and waterfalls of Blue Creek, and the Scarlet Macaws of Red Bank. Also enjoy a local market, and a chocolate-making operation.
Reed returns to Belize for a second year, enchanted with the rich mix of nature and culture, and the hospitality of the people. Join him for another great trip.
10-Day / 9-Night Belize Birding & Nature Tour with Reed Peters Cost is $3995*DBL / $4895 SGL, from Belize City, Belize (Special rate for Cave Creek Ranch tour) Airport is Philip S.W. Goldson International Airport, Belize City, Belize (BZE)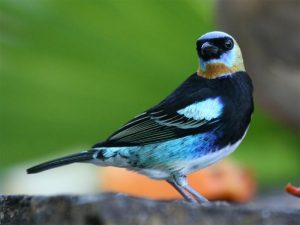 TO REGISTER, contact Naturalist Journeys, a tour company based in Portal, Arizona coordinates our tour.
Naturalist Journeys, LLC / Caligo Ventures PO Box: 16545 Portal, AZ 85632 Phone: 520.558.1146 / 800.426.7781 Fax: 650.471.7667 www.naturalistjourneys.com www.caligo.com info@caligo.com naturalistjourneys@gmail.com
Here and Waiting For You! Are You Ready?
Readily Seen on South Fork Road
Class Room To Be Ready Soon
At Cave Creek Ranch we are building a classroom/meeting room this summer, to enable us to better host workshops, retreats, and classes. Until now we've either moved furniture around in the common room or the Ranch House living room, neither of which has been a perfect solution.
With a separate room, groups will be able to be private without distraction, and will have facilities for projection, white boards, etc. If you know of someone looking for a special location for a retreat, workshop, class, or the dreaded "team-building," please let her or him know about this. Thanks! Due to the lack of cell-free access, participants will not be able to check their phone messages or text during sessions – class leaders will love it.
When you visit, don't forget to get your copy!
It's a beautiful book, with contributions by over 40 mostly local authors covering nearly every aspect of the canyon – the physical canyon, including geology and hydrology, the living canyon, including plants, birds, and animals, and human history from archaeology to the Apaches to early settlers to life here today.
"Cave Creek Canyon: Revealing the Heart of Arizona's Chiricahua Mountains". It has over 200 color photos and illustrations, and is on a very good quality paper with a paperback price at $19.95. Available at Cave Creek Ranch and other local businesses, by calling the Chiricahua Desert Museum in Rodeo at 575-557-5757 or going on line to Amazon.com Ecouniverse.com
It's Not Too Late To Come This Summer Or Late Fall!
We are at 5000 feet elevation and the days are very pleasant, especially when the summer monsoon
start in July. Sunny mornings, clouds build up, rains in the late afternoon. Sometimes, if you are lucky, you get to view incredible electric storms. It is very pleasant here then and if its too warm, drive a few minutes and you are at 8000 feet hiking in the trees and looking for that Red-faced Warbler.
The very best time to see and photograph hummingbirds is July through early September. Some years we see nine different hummingbird species. Come and enjoy them and meet our experts who will tell you all about them.
The overall birding is excellent from August-September when you can find Trogons, warblers, flycatchers, and a lot more.
AND IT'S ALL WAITING FOR YOU!
Contact Us Now For Reservations
For questions, reservations, or other inquiries you may Visit our Website or call 855-558-2334. Please mention this post when making your reservation!